FEES
Adult (before Jan meeting)
Adult (after Jan meeting)
If an Angler joins after the 1st tournament of the season, they may miss an opportunity to participate in that years point tally system.
If you are interested in the club attend one of our winter meetings. All are welcome. Ask lots of questions and learn how we operate.
* Associate members must belong to another Ontario Bass Nation (OBN) registered club prior to joining our club. Associate club fee are much lower because the members OBN and B.A.S.S. fees are paid out of the other clubs membership dues.
---
Benefits of Membership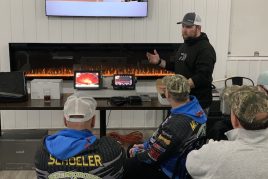 Winter Meetings
ALL ARE WELCOME! Attend winter monthly meetings that host exceptional guest speakers and commonly have awesome door prizes.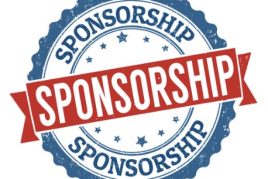 Members earn points as they strive for Angler of the Year & Co-Angler of the Year. Our generous sponsors help offset this cost.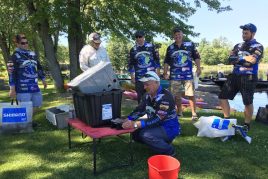 Fun Tournaments
The opportunity to fish in approximately 8 full day events each season with small cash prizes and a point system to claim Angler of the Year!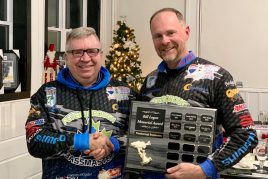 Awards
In the winter we present awards to member of the year, rookie of the year, angler of the year and co-angler of the year.
the fine print …
Before becoming a member, anglers must join the North American organization B.A.S.S.
All members must have a valid Sport fishing licence.
Info on the Fees:
Out of the regular membership fee, the club remits for each member ~$15 to the OBN and ~$32USD to B.A.S.S. (North America). The balance goes to the club for operating costs such as bank fees, postage, Christmas dinner, tournament prizes and other operating costs. The $ that the club remits to OBN/B.A.S.S. give our members the opportunity to fish as a club representative in the annual B.A.S.S. Nation Hank Gibson Provincial Qualifier and from there potentially join team Ontario and compete in the divisional tournaments in the USA.