FEES
Adult (before Jan meeting)
Adult (after Jan meeting)
---
Benefits of Membership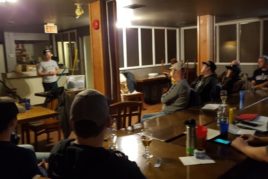 Winter Meetings
Attend winter monthly meetings that host exceptional guest speakers and commonly have awesome door prizes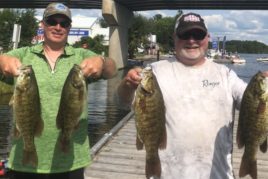 Fun Tournaments
The opportunity to fish in approximately 8 full day events and 4 evening events each year, for which there are prizes 🙂
Awards & Recognition
At the end of the season the club awards Angler of the Year and Co-Angler of the Year based on points scored in tournaments. Also the club recognizes 'above and beyond' members.
the fine print …
Before becoming a member, anglers must join the North American organization BASS.
All members must have a valid Sport fishing licence.
Info on the Fees:
Out of the regular membership fee, the club remits for each member $15 to the OBN (Ontario Bass Nation) and $32USD to BASS (North America). The balance goes to the club for operating costs such as bank fees, postage, Christmas dinner and other operating costs. The fees out of the membership that the club remits make members a part of BASS Nation and give them the opportunity to fish as part of the club plus the qualifier tournament and potentially join team Ontario and the divisional tournaments in the USA.

In order to encourage commitment and ensure insurance coverage there is an early payment discount (save $15 off $80 annual fee) if dues are paid prior to or at the January meeting.
Associate members must belong to another Ontario Bass Nation club. This club fee is much lower because the OBN and BASS fees are paid out of the other clubs membership dues.